Kenyans are still reacting to Deputy President Willam Ruto's bold move he pulled out in Kiambu, which is perceived to be President Uhuru Kenyatta's bedroom.
On Wednesday DP William Ruto changed his plans and stepped out to distribute aid to Kenyans who have hit hard by the Covid-19 pandemic.
DP Ruto has been using his righthand men to distribute food aid to desperate Kenyans until yesterday when he took the whole matter by himself.
Surprisingly, the DP defied the government order and directives which require all those willing to help Kenyans during this Covid-19 pandemic to do it through the Covid-19 Emergency Response Fund
"Today, 600 families in Nachu Ward were part of the wider 3,600 households that benefitted from our food distribution; to shield Kenyans from adverse effects of the outbreak," DP Ruto tweeted.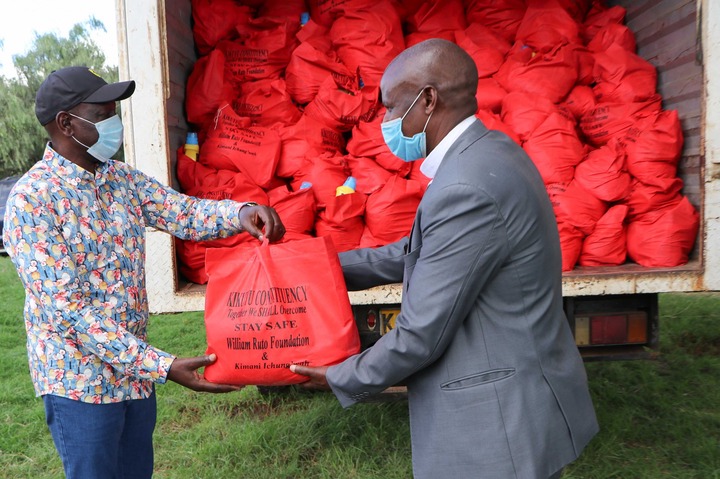 His move has kept Kenyans talking for long, with most of them promising to vote him in when 2022 comes
Here are the top reactions from Kenyans on Twitter.
"Good Job DP,No one can match what you are doing. While they are busy Politicking you remain focused in helping Kenyans during the Pandemic. I repeat Good Job,May the Lord most high bless you," said Captain Dominic Omondi
"May God fight for you,your battles. You'll be blessed Your name will be known to many nations. A great leader you're." said Edwin Morebu
"Thanks Sir, we will stand with you till the end. There is God is heaven, who is just and not a respector of persons. God bless you." said Allan Njenga
"God Bless you abundantly. For those who have had the privilege to interact with you, we know you have a golden heart. Are God fearing, humble, indefatigable N compassionate. N you trust God and count on the goodness of people's heart. Unfortunately sio wote ni watakatifu." said Josephine Kuluo
"My President we are ready to take you to the hse on the Hill soon with the help our our ever faithful and loving Lord…..2022 is a year of the millions of poor and vulnerable people in Kenya to rejoice and regain hope in their lives…God bless you my brother." said Stefano Lepatoyie